CMO/CDMO for Exclusive Synthesis
As a contract development and manufacturing organization (CDMO) partner with locations in India and International, we offer services for API development and Commercial Manufacturing to the Innovators and Formulators:
R&D
Our expert team can develop and validate complex APIs.
We have new R & D center having 60 fume hoods for development of complex APIs.
We have excellent supporting analytical laboratory having sophisticated equipment like HPLC, GC, LC-MS, GC-MS, XRD etc.
We can scale up from grams to kgs to tons.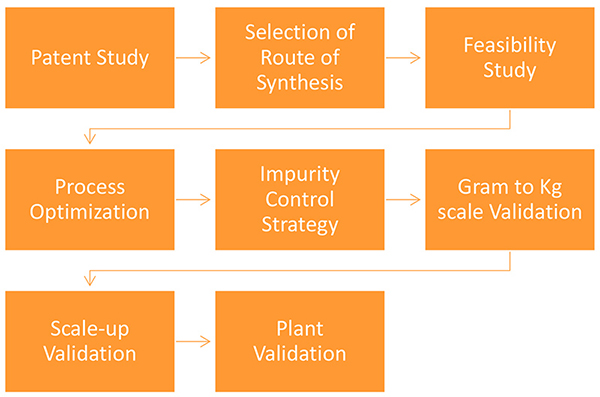 Services offered :

Strengths as a CDMO:

Vertical Integration:
Key Starting Materials, Intermediates, API Research & Development Commercial Manufacturing

Active Pharmaceutical Ingredients:
Complex Chemistry:
Cryogenic Reactions

We can perform cryogenic reactions in temperature ranges up to -80°C


Pyrophoric and Sensitive Reactions

Capable to handle precious metal catalysts and pyrophoric materials at elevated temperatures and high pressure.

Hydrogenation Reactions

With Pressure Range up to 30kg/cm2, Temperature Range Up to 180°C and Capacity ranging from 25L to 6kL, efficiently hydrogenation reactions can be performed.
For CMO/CDMO requirement for your exclusive synthesis, kindly mail your enquiry on [email protected]